McCain campaign volunteer, Ashley Todd, 
 lied to police
about being attacked by a big Black man for being a McCain supporter. Ironic, isn't it?
Sarah Palin doesn't even support hate crime statutes
, and one of her supporters thought a fake bias crime would improve Palin's chances of becoming VP. Anyway, Todd told the cops that this scary Black man (isn't it always a Black guy?) carved a "B" into her face and told her that she would become an Obama supporter. But this wasn't just any "B" carved into her face.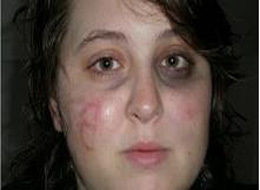 It's a backwards "B!" The kind of "B" that would result if a person cut it into their own face without thinking, "Hey. You think this'll pass the
Michelle Malkin smell test
? Or will it be more
stinky tofu
?" Yep. They've got some real brainiacks on the Straight Talk Express. Racist, racist brainiacks. Oh, did I mention this happened in totally not racist western PA?
Being a lying racist -- so not funny.